Thursday, November 22nd, 2007
---
8:45 pm
- Old and New but all Random
Saturday, July 7th, 2007
---
12:41 pm
- Stuffeses


Chiggys give parry skill but are boring to watch hit you.




I spent like 2 hours skilling up parry and went from 162-170. Not so bad but it was hella boring.



(

Read more...Collapse

)
Saturday, June 16th, 2007
---
9:47 am
- Minor update out of boredom
Saturday, May 26th, 2007
---
12:06 pm
- RDM+BLM Fun
So recently I decided it was time to revisit leveling blm. But first I remembered Kerb telling me that I should have rdm for a sub job.

So with the anniversary ring in hand my rdm sub leveling began.

(
Read more...
Collapse
)
Monday, March 5th, 2007
---
2:59 pm
- A taste of the billions of pic's/videos taken
So last week I went to Colorado for a snowboarding trip. Had a blast. Took a billionn pictures, still trying to sort through them all and awaiting others to email their to me. Here's a small taste if anyone feels bored to see what goes outside!



Show media

Loading...



She totally was rocking out... Until she saw that I was filming her that is.



(

Read more...Collapse

)
Monday, February 26th, 2007
---
8:14 am
- I caved
I listened to Graeson and got the 80gig Ipod video...

Why? Not sure. My laptop only has 30gigs of space on it total so gonna be hard to fill the ipod! Now I suppose I have to get a new laptop. THANKS GRAESON.

I did have more music than I thought. 940 songs which added up to around 5 gigs or so. Now I should probably add some of the cd's I actually bought in the last couple years and never buy a CD again.

Plan to head to colorado for snowboarding leaves tomorrow morning. Kinda excited since I didnt get to go last year so I'm feining for the slopes. Should be fun, we have like 17 people staying in one house. Yea it supposedly sleeps 24 and has 6 bedrooms so we should be ok and have lots of fun. I dont know like 10 of the people going. We have people from all over the states going which is the usual. This year the word is the girls outnumber the guys by almost a 2 to 1 ratio which should make things all the more interesting. I hear the girls from chicago and flordia are fun. LET THE GAMES BEGIN!
Wednesday, February 14th, 2007
---
12:54 pm
- Which mp3 type player should I get?
So basically I'm thinking of finally purchasing an ipod or something like that. It's really my upcomming trip to colorado that got me thinking I may want to look into it. I figure since I'll be flying alone from Atlanta and meeting up wiht people in denver I may want to grab one. Perhaps put to good use my 2000 songs I've downloaded over the years.

Naturally I'm looking at the 30gig or 80gig ipods but then there is the nano which has a 8gig for a similar price. Not sure why thats the case but whatever. Ive heard ipod has it's issues but is still the fad of the day. I read up on some other brands but nothing conclusive to make me pick one over the publics choice.

Any thoughts/experiences?
Saturday, February 10th, 2007
---
5:26 pm
- All good things must come to an end
Well it's that time. You know, the time when one retires from the virtual world. I'm turning over my char to good ole Graeson in hopes that he wont whore me out too much and allow me to come back from time to time to say hey and perhaps poke something.

I doubt that I'll ever fully return to playing this game or any other mmorpg because I never truly embraced the "gamer" mentality. I never understood the love of the japanese culture or their cartoons (anime or whatever they call them). FFXI was my first rpg (unless you count dragon warror for the snes) and I didnt play any of the previous installments. I did have a blast getting lost in the virtual world with friends I ment along the way. I confess I got sucked into the world, not for the storyline but for the friends I collected.

If not for Tshot/Spikeflail I probably wouldve quit years ago but those guys kept me going and striving to be a decent thief. Everyone can thank amina and IG for my quest to turn thief into an actual DD. Ever since my first experience with the old school nazi parties in The Celestial Nexus back when 15k an hour exp was awesome (go go early 2005) without a rng setup. I just wanted to pull my weight and became obsessed with being a DD lol. Probably mostly to prove everyone wrong and partly to be more than a TH whore like so many of my thiefly counterparts. I like to delude myself into thinking that I at least partly succeeded.

I'd like to thank everyone I met along the way and all those that helped me get to where I ended up. It was you guys that kept me going long after the love of the game began dwindling. I took some time off after some nonsense and when I came back I just didnt have the passion anymore. But this isnt the place to get all mushy. We had a good run both my fellow SF'rs and ON friends and random guys I met along the way who put up with my nonsense. THanks everyone. I'd mention everyone by name but that would take too long and I hope that everyone who made a difference in my experience knows who they are and how much it ment to me. Thanks again everyone!

I'll leave with some SS's of how Tdizzle ended up in the merit category:


(

Read more...Collapse

)
Tuesday, November 14th, 2006
---
9:12 am
- :(
I get sad every time Hero's ends. I go so far as to get annoyed at 9:30 because I know it's half over.
Sunday, November 12th, 2006
---
12:57 pm
- Sup?
Wednesday, November 1st, 2006
---
9:23 pm
This make sense?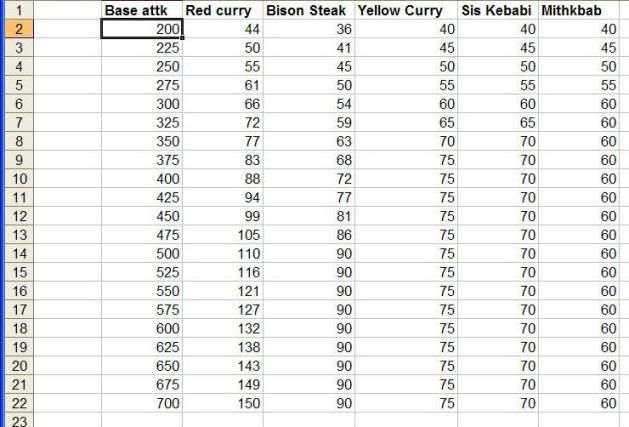 Friday, October 27th, 2006
---
10:53 am
- Delayed post about randomness
So we tried AV a couple weeks ago but I neglected to post the fun. We tried for hours to kill wynavs for ole AV to lock but it didnt happen. Apparently there is either a lot of bad luck across all servers with the same problem or SE bojacked something to annoy us.


(
Read more...
Collapse
)
Friday, October 20th, 2006
---
6:25 pm
- Boy are we l33t
Tuesday, October 10th, 2006
---
11:26 am
- Pictars: Sea adventures and more!
Saturday, October 7th, 2006
---
12:00 pm
- Turtles, robots, war, and parrying Oh my!
So we got aspi the other day. Good times. Had to fend off 3 manticores as thf/war because someone kindly trained them on us. Just made things more interesting and made the turtle fight last 30mins instead of 15 it should have taken. No matter, that just allowed me to get an extra mug in for another 2k gil! Oh and stuff droped.




Frank kindly took the Crimson, Whitescopio took the Dalmatica, and Bloodhawk is now sporting a Blackbelt. Grats2u all :)

Then we fought the infamous robot Omega!



(

Read more...Collapse

)
Friday, September 22nd, 2006
---
9:43 am
- Yesterday we kilt stuff
First it was mr. Timmy. I logged on and the call was to come and poke it with my dagger.




Then he droped stuff.




I leveled war to 56 after that, then logged out. Got word that we decided to camp fafnir, so I decided to go play with the now green dragon. My thf provoke got his attention and he tried to eat me. But my trusty shield which is now level 59 blocked at least one hit!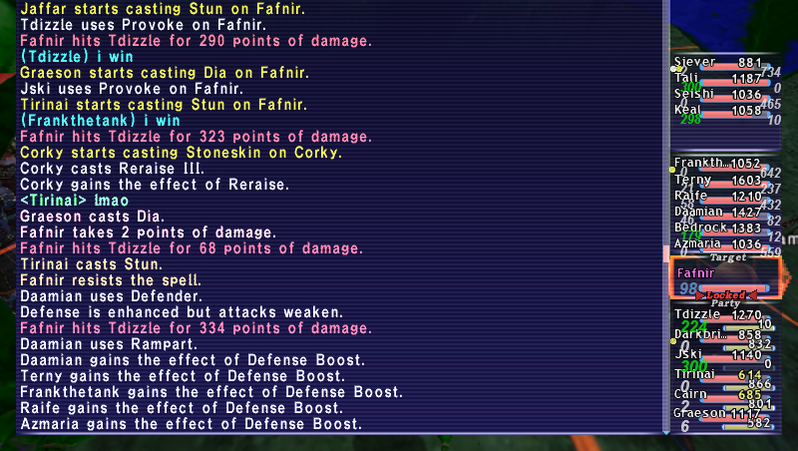 Another funny point on that SS is frank saying "I win", not sure what he was talking about since he didnt even cast anything at all. GG FRANK! Later on he did chainspell refresh Raife (who needed refresh for leet abs tp with the quickness) further showing his skillz.
Wednesday, September 20th, 2006
---
9:32 am
- Oh Fafnir why are you so upset?


How many ls's get fafnir who Wings before they even engage? Must be a Spike Flail thing, since thats usually the only ws he uses. But today he used another one!



(

Read more...Collapse

)
Monday, September 11th, 2006
---
10:29 am
- Trying to zerg war to 60 to catch up for a potential set!
yea yea, I need to get on leveling war more regularly. ONly leveled a couple times last week and got all of 2 levels. PIck up pts are bad, what can I say. But Para and Tahk I'm hurrying for you guys!

It usually helps if I lay out gear etc to motivate me in the future so I'll do that. Perhaps I can free lot Adaberk soon! Also need some of the other Ada parts since Ive got 0. I think we're supposed to do sky in the near future so we'll see if I can bojack some of that. As of now all I've really got is heca for ws and thats just not gonna cut it. Not much I can do to magically make the sky/hnm drops get free lotted to me but I'll put some of them on the list. Feel free to make suggestions on whats here or not here.


(

Read more...Collapse

)
Saturday, September 9th, 2006
---
11:09 am
- On friday I played FFXI
Exp'd on war a bit recently good times. The pt was pretty good actually, I think we were running like 7k an hour. Not too bad for a pickup pt. The bard was really good, jski showed up and did his cor duties. Nin was almost a leech but he tried hard. It's just that war is so freakin hax that it's virtually impossible to keep hate. I dont really even have good gear for war, my nin is much better equiped via mnk gear.




Then I finished up war af1 boots. Correct me if I'm wrong but are the boots the only piece worth getting? I dont want to pull a dumb move like I did with mnk and get all the af1 and realize most of it sucks. At least most of the mnk stuff is macro'able for it's usefulness. I didn't check too well on war stuff but nothing struck me as really being useful short of the boots.

Well after that we went merit!



(

Read more...Collapse

)
Wednesday, September 6th, 2006
---
6:27 pm
- Well not much went on but boredom dictates another post.
Ever since I got on pc from ps2 I fell in love with posting pictures in my LJ. Sorry if it's boring but come on pretty pictures!

Lets take a look at what happened recently. Well lots of exping. No use for me to show lolthf can keep up with the best of the best anymore so I'll hold off on posting me outparsing wars and mnks. One day soon I hope to pt with amina and irongrim so I can be put in my place. Sure it'll be like amina 35 grim 30 and me 25 or something, I'd be playing thf so what do you expect!

And to keep Daa from yelling at me, I present you a lj-cut for the actually pics!


(

Read more...Collapse

)